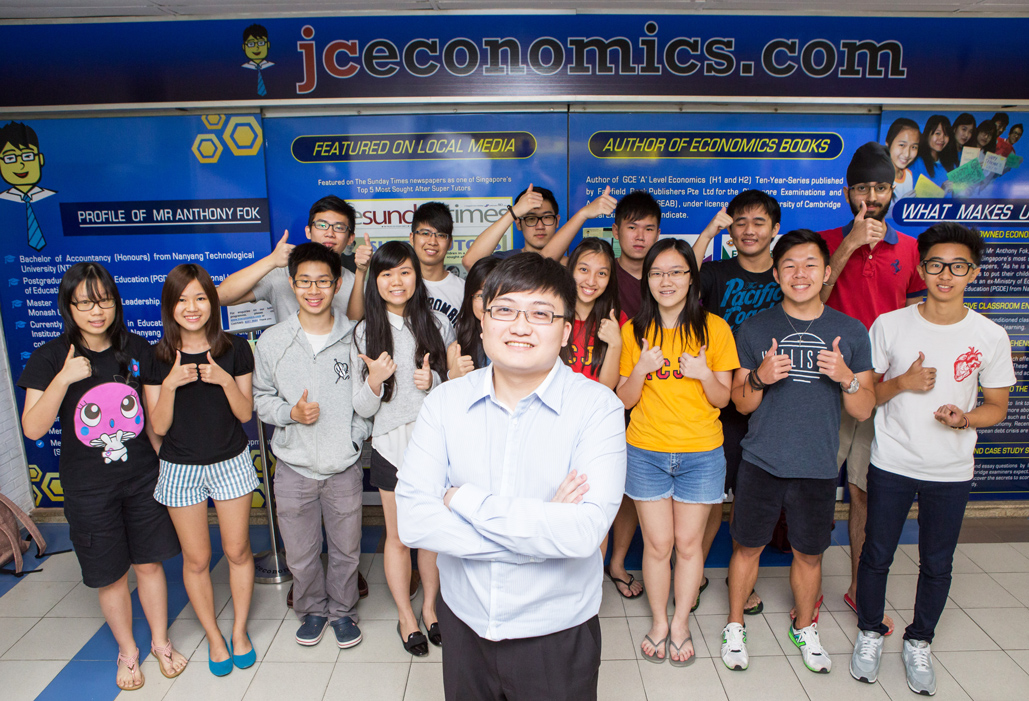 Have you done any tutoring for some extra income?
It's one of the easiest ways for teachers to earn some extra money doing almost exactly what we do during the day.  You have to find students as a tutor.  They are assigned to you as a teacher. 
Even if you haven't already tutored you've likely considered it.  I tutored one summer but never put in the time and effort to grow my services as a business.  
Click to Download 10 Quick Tools To Become a Happier, Healthier, Wealthier Teacher
I do believe that every teacher should have at least one additional source of income other than their teacher salary.  To see how I could have done better in building a tutoring business I reached out to one of the most successful tutors in the world.  His advice would certainly have helped me and will help you start or grow a tutoring business the right way.
That teacher turned tutor is Anthony Fok.  
Anthony has been seen on CNBC and Yahoo for his $1+ million per year tutoring business.  
Although Anthony's rise to tutoring success took place in Singapore, home of high stakes testing, he could be used as a model by teachers in the U.S. looking to supplement or replace their teaching income.
In my talk with Anthony he revealed how much his business grew over time, how he manages his time, how he connects with his students, and how he rose above other tutors in a very competitive industry. 
Click to Download 10 Quick Tools To Become a Happier, Healthier, Wealthier Teacher
Below is my interview with Anthony.  
Getting Started
Anthony, you have been mentioned in a number of press stories for your success tutoring Economics in Singapore.  Could you explain briefly how you started tutoring?  Were you doing this part time while teaching or did you jump from teaching to tutoring full-time?
I have been giving tuition since my Nanyang Technological University (NTU) undergraduate days in year 2005. I feel a great sense of achievement whenever the students I coached managed to do well in their examinations. This led to their parents referring their friends and relatives to me. With my passion and drive to create more success stories, I founded the tuition business in year 2012 after resigning as a full-time school teacher from the Ministry of Education (MOE) to pursue my PhD in Education at the National Institute of Education (NIE) of Singapore.

I have also written numerous A-Level Economics guidebooks, including the Economics Ten-Year-Series that is used in various schools both locally and overseas. I am the Official Singapore Book of Records (SBOR) holder as the "Author of the Most Number of A-level Economics Books in Singapore" and also the "Highest Earning Economics tutor in Singapore".
How many students did you have early on and how many do you have now?
I started off with only 6 students when I first started in year 2012. Currently I teach about 200-300 students every year.
Overcoming Tutoring Challenges
Can you talk about some challenges you faced getting started early on?
I took a risk (and pay cut) after resigning as a full-time school teacher to start my own tuition centre. Family and friends asked me to reconsider walking away from a promising and steady long-term job. As I was the sole employee and the business was at its infancy, I had to do everything myself from scratch. This includes sourcing for students, preparing the curriculum lessons, notes and the list goes on.
What are some challenges you are currently facing?
Well.. there is no exact challenge that I can point out at this point of time since the business is already on track. If there must be one, I would have to admit that it is time management. The company is taking up a bigger slice of my time beyond the curriculum time, as I do spend a considerable amount of my time answering Economics questions via Whatsapp/ emails and face-to-face meeting with my students. On top of this, my students look up to me for other advice such as choice of university/ faculty and I am happy to share my thoughts and life experience. Given that I attend to all this by myself, I have to manage my long working hours to strike a right balance between family/ friends and work.
You tutor Economics.  To what degree would you say the pressure to get into a good university in your subject played a role in your tutoring success?
It's not about the paper qualifications that makes a good tutor. I believe that hardwork, dedication, love for the subject and a genuine concern for the students will make tutors succeed. Never overpromise and underdeliver.
Tips on Being Successful in the U.S.
If someone were to start a tutoring business in the U.S. (with different educational goals, economy, etc.) what advice would you have for them in terms of finding students, organizing them, pricing their services, etc.?
Be genuine – pour your heart and soul into helping the students. Always put the students' interest at first place and you won't go wrong.
Did you find your prices rose as the demand for your services rose or were you just getting more students?
It is common for people to perceive that school teachers leave public service to join the tuition industry in pursuit of monetary rewards. But as any other successful business, the secret recipe for success is passion and hard work. In fact, I offer free Economics tuition to A-level students who come from disadvantaged backgrounds. These students form part of my regular class size and are treated equally as any paying student. I hope to provide them with a learning opportunity so that they can excel in school. Many of them have benefited and are very thankful for the opportunity given. This is my way of giving back to the society.
Managing Your Time
Can you talk about how you organize working with your current load of students?
It's all about time management – allocating blocks of time for specific purposes and working around them.
How would you compare and contrast teaching full time with tutoring?
Currently, I get to teach students from diverse backgrounds. It trains and sharpens my skills as a teacher because I have to juggle their respective needs in the classroom. Being my own gives me a lot of flexibility and control. For instance, I can now set the pace of my lessons to suit the learning needs of my students without being restricted to any curriculum time allocated.

As with every profession, good staff come and go. Notwithstanding this, there are new blood entering the public service every year. Together with the experienced teachers, education team and Ministry's continuous efforts, this strengthens our education system and lay strong foundations for students to achieve success in life as contributing members of society.

I was taught by dedicated and excellent teachers during my school days. I thoroughly respect them for their enthusiasm and hard work. They have, in some way or another, inspired me to enter the teaching profession to continue the sharing my knowledge with future generations.
Are there any services or books you'd like readers to be aware?
I am keen to explore working with professors overseas to develop online videos and curriculum. This collaboration allows exchange of information in the international market and optimal usage of resources.

It would be exciting if universities from around the world are keen to offer some sort of certification programs for Singapore students who are studying for the GCE A 'level Economics examinations. Or better still, if some sort of exemption of Economics module(s) can be worked out if these students enroll in the respective universities.
How could teachers read more about your story and your work?
They can visit my website at www.jceconomicstutor.com, for more sharing.
Anthony defies what we are told is the path to success –  cheating, lying, stealing, scamming.  
That's what you hear in the news but people who are busting their butts ever day form the majority of those getting ahead.
Anthony pours his heart into his students.  He is and rightfully and appropriately rewarded for it.  
Just as you should be for what you do!
What was your favorite part of Anthony's story?  Anything else you would ask Anthony?  What subject would you be best suited to tutor on your own?  Leave a comment below.
Related posts: